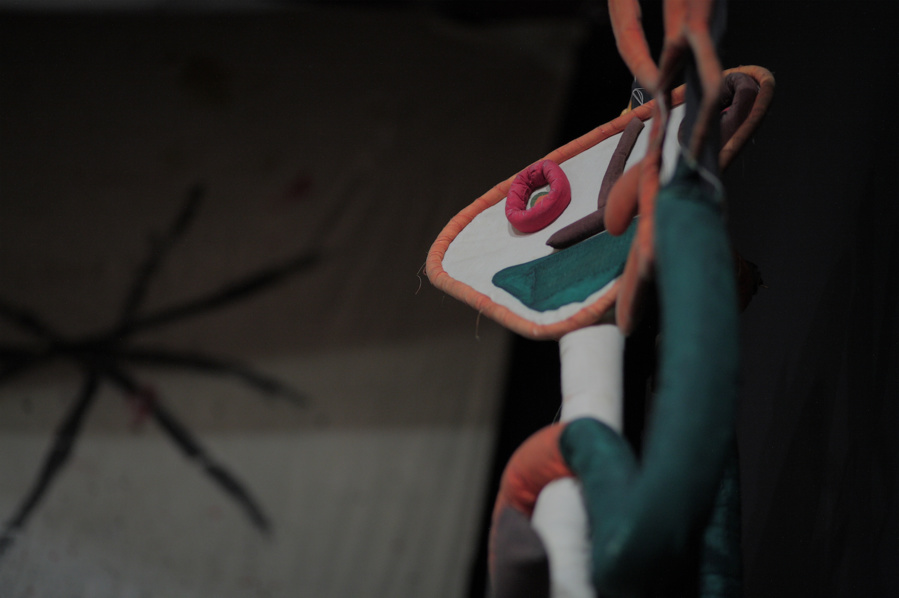 THE BIRTH OF A WORLD

In 2004, I visited the exhibition "The Birth of the World" at the Centre Pompidou in Paris. On that occasion, I discovered the importance, complexity and wealth of the painter Joan Miró's work.
Before that, my vision of his universe was limited to bright and vivid colors; to paintings that put humor, imagination and symbolism to the forth. Until then, I had never perceived the profoundness of his work.
His creative approach, in particular his writings, has inspired me in my work as a composer.
Like poetry, music plays a major role in the suggestive power that emanates from his art.
For Miró, it is a source of inspiration and a true means of escape.
His musical tastes ranges from the baroque and classical: Bach, Beethoven, Mozart to modern composers such as De Falla, as well as Jazz music that he discovered while journeying in New York in 1947.

Miró told art critic Georges Charbonnier that he felt that "a painting is a musical and poetic rhythmic pattern" and that for him "there is no difference between a poet, a musician and a painter ".
In his writings, Miró describes a creative process that, in many ways, is similar to pictorial, poetic or musical composition.
First of all comes suggestion: for a painter, the starting point is the line, for a poet the word and the note for a musician. This first, free and unconscious stage is pure gesture, movement, an event that is sometimes uncontrollable and leaves room for chance and accident. Then comes the organization of the ensuing forms and finally, the enrichment of composition.
These three stages are also part of musical composition and improvisation.
This is when it became clear to me that I should give a musical reading of Joan Miro's work. Drawing inspiration from his painting and creative aesthetics, I began to think up a project blending written music and free improvisation.
MIRÓ À LA RENCONTRE D'UBU (MIRÓ MEETS UBU)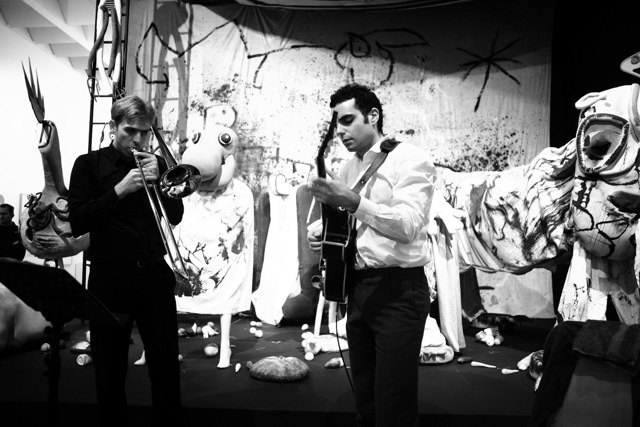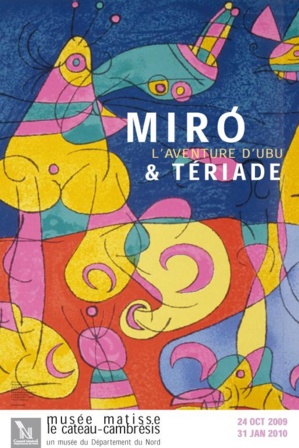 Paul Abirached guitar, composition
Hikmet Thiéry trombone

In 2009, I was working on an order from the Matisse museum at Château Cambrésis for their Miró and Tériade exhibition, Ubu's adventure.
It was an opportunity for me to work directly in partnership with a museum and develop a practical approach to the artist's work.
I then imagined a suite for guitar and trombone in three parts, directly inspired from Miró's work on Alfred Jarry's character: Ubu King, Ubu the Balearic, The Childhood of Ubu.
We gave one performance of this creation, at the heart of the exhibition where we played surrounded by giant puppets painted by Miró for the Catalan theater play Mori el Merma.
CECI EST LA COULEUR DE MES RÊVES (THIS IS THE COLOR OF MY DREAMS)
Paul Abirached
guitar, composition
Virgile Lefebvre
soprano saxophone
Julia Gomez
reading
Created in 2007, Ceci est la couleur de mes rêves is a piece for soprano saxophone and guitar, co-composed with the saxophonist Virgile Lefebvre.
Originally, I wanted to give a musical reading of Miró's creative process, from his first paintings that were deeply rooted in Catalan culture, the reality of detail and amazement, to the poetic painting of dreams.
Whether figurative, abstract, mischievous, funny, sometimes dark and etched in sadness and nostalgia, these musical pieces aim at reflecting a double universe: the universe of playtime, color, inhabited by an alphabet of symbols, and inversely, the universe of empty space, darkness, haunted by spectral and phantom figures.
I chose to add a literary dimension to this first project with a rather unknown aspect of Joan Miró's work: his poetry. The Spanish actress Julia Gomez then joined the soprano saxophone and guitar duo.
The poems were selected from two corpuses, written respectively between 1936-1939 and 1945-1955.
The first period corresponds to Miró's Parisian sojourn, a time when, his solitude led him to take full cognizance of the harsh reality of the events related to the civil war in Spain.
Incapable of painting, poetic writing will become a substitute for him.
Miró will express his desire to publish these poems in his notes dating from 1938-1939:
"to reproduce paintings with very poetic titles. A parallel between poetry and painting, such as between painting and music. insert etchings, lithographs, etc. and reproductions of various poetic paintings. Also a reproduction of a beautiful astronomy page. rather than a score of wagnerian music, a reproduction of music with notes that follow a rhythmic pattern just like my paintings."
The second period is the Poem-Title period.
Inspired from the poetry he wrote in the 30s, these poems can be compared to an accompaniment to the paintings.
Similarly to his painting, Miró's poetry is analogous to a constellation of images, rhythms, which show no obvious logic; it is the result of a creation that gives free reign to the flow of the unconscious mind.
The words resonate with the images that appear on the canvas, to highlight the poetic allusion.
Once again, it is striking to see the possible parallel between painting, poetry and music and how they belong to the same creative process.

Ceci est la couleur de mes rêves
(7.87 MB)

Chiffres, constellations, amoureux d'une femme
(7.55 MB)

Nature morte aux vieux souliers
(6.08 MB)

La danseuse espagnole
(3.83 MB)

Femme et oiseau dans la nuit
(6.62 MB)

Parc Güell
(6.47 MB)

Le carnaval d' Arlequin
(4.63 MB)

Montroig
(9.25 MB)

Farce
(494 KB)

Le village
(8.03 MB)